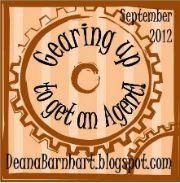 Not to be confused with busting a gut. This splendiferous
blogfest
helps us gear up to get an agent. If you haven't heard of it yet, stop...click the link...we'll wait. Go! Shoo!
We kick off the festivities with these fun "Get to Know Me" questions. And if you really can't get enough, there's always the "
About Me
" section of the blog.
Enjoy! I'm off to get to know all of YOU.
Where do you write?
Wherever I can. Honestly. Mostly, I write sprawled on my bedroom floor, but I've also written at desks, in the car (with a tape recorder) and in a tree stand to name a few.
Quick. Go to your writing space, sit down and look to your left. What is the first thing you see?
Ha - my laundry bag. Guess that's a bit of a wake-up call. :)
Favorite time to write?
Writing time IS my favorite time, no matter when it happens. I try to be flexible and fit it in around the rest of my sometimes-crazy life.
Drink of choice while writing?
Ooh, great question. It totally depends on the time of year and my characters. Once, I was drinking a local brew while writing, and I loved the flavor so much I wrote it into the tavern menus for my WIP. In the winter, I'm a fan of hot chocolate with chai.
When writing , do you listen to music or do you need complete silence?
Music is a must. I'm addicted to Pandora, and I use music as inspiration or to set the mood of the scene I'm writing.
What was your inspiration for your latest manuscript and where did you find it?
The very strange combination of a breaking storm, Dio's song
Rainbow in the Dark
and Brandon Sanderson's
Warbreaker cover art
(Thank you
Dan Dos Santos
!).
What's your most valuable writing tip?
Be a student of the game. If you love it, truly love it, you'll read all you can, learn all you can, admire and study other authors every chance you get. It all adds up to perfecting your craft.
**
Bonus tip!
I can't resist - I just re-read this quote next to my desk at work and, you guys, it's perfect.
"Never give up on something you can't go a day without thinking about."
That's how it is with me and writing.**